ARTISTアーティスト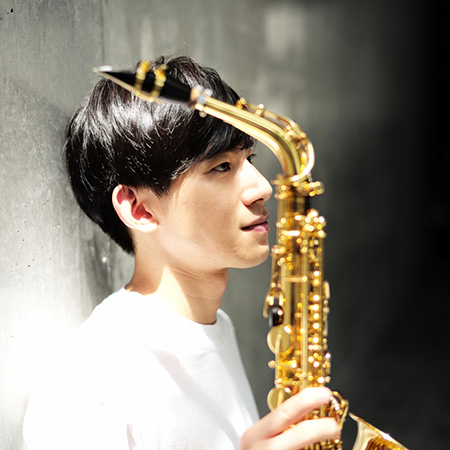 上野耕平
Kohei Ueno
茨城県東海村出身。
8歳から吹奏楽部でサクソフォンを始め、東京藝術大学器楽科を卒業。第28回日本管打楽器コンクールサクソフォン部門第1位・特別大賞(史上最年少)。2014年第6回アドルフ・サックス国際コンクール第2位。現地メディアを通じて日本でも話題になる。
指揮者山田和樹氏には「耕平は、1音を聴いただけで、ただ者ではないと思った!」、ボストンポップスオーケストラの音楽監督であり指揮者であるKeith Lockhartには「サクソフォンのこんな音聴いた事がない。目が飛び出るほど驚いた!」と言わしめた。デビュー以来、常に新たなプログラムにも挑戦し、サクソフォンの可能性を最大限に伝えている。現在、国内若手アーティストの中でもトップの位置をしめ、演奏活動のみならず、NHK-FM「×(かける)クラシック」の司会やテレビ「題名のない音楽会」「情熱大陸」など、メディアへの出演も多い。
サックスカルテット「The Rev SaxophoneQuartet」、吹奏楽「ぱんだウインドオーケストラ」のコンサートマスターとしても活躍中。最新のソロアルバムは「アドルフに告ぐⅡ」。2017年度第28回出光音楽賞受賞。2018年第9回岩谷時子賞 奨励賞受賞。音楽以外にも鉄道と車をこよなく愛し、深く追求し続けている。
Born in Tokai-mura, Ibaraki, Japan, he began playing saxophone in a brass band at the age of eight and graduated from the instrumental music department of Tokyo University of the Arts. He won the first prize and special grand prize in the saxophone category at the 28th Japan Wind and Percussion Competition (as the youngest winner ever), and the second prize at the 6th Adolph Sachs International Competition in 2014. He has been the focus in Japan through local media. Conductor Kazuki Yamada said, "I knew Kohei was nothing to sneeze at when I heard one note of his perform." Keith Lockhart, music director and conductor of the Boston Pops Orchestra said, "I've never heard a saxophone sound like this before. I've been really surprised about him! " Since his debut, he has been constantly challenging himself to create new programs to show the full potential of the saxophone. He is currently ranked at the top among young artists in Japan, and in addition to his performance activities, he has made many appearances in the media as the host of NHK-FM's "X (kakeru) Classics" and on TV programs such as " Untitled Concert" and " JOUNETSU - TAIRIKU " . He is also active as concertmaster of the saxophone quartet "The Rev SaxophoneQuartet" and the wind band Panda Wind Orchestra. His latest solo album is "Tell Adolph II", which won the 28th Idemitsu Music Award in 2017, and the 9th Iwatani Tokiko Prize Incentive Award in 2018. Besides music, he loves trains and cars and continues to pursue them deeply.
BACK