ARTISTアーティスト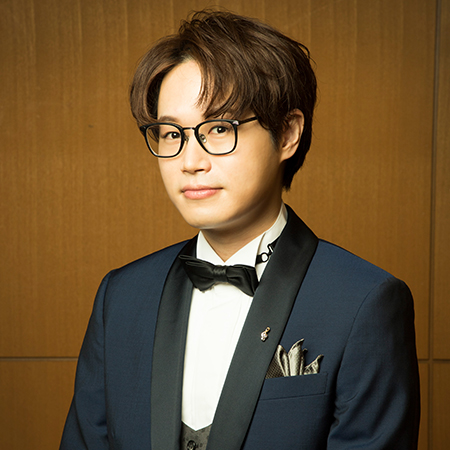 石井琢磨
Takuma Ishii
2016年ジョルジュ・エネスク国際コンクール(ルーマニア・ブカレスト)ピアノ部門第二位受賞。日本人ピアニスト初入賞の快挙。
国内外で演奏活動を行う他、"TAKU-音TVたくおん"名義でYoutubeチャンネルを開設。総再生回数はわずか2年で5300万回を超え、チャンネル登録者数も20万人を超えて、なお増え続けている。(2022年10月現在)東京藝術大学音楽学部器楽科ピアノ専攻を経てウィーン国立音楽大学ピアノ科に入学、同大学ピアノ科修士課程を満場一致の最優秀で卒業。
現在ポストグラデュアーレコースに在籍。オーソドックスな古き良きクラシック音楽に主軸を置きながら、「クラシックをより身近に」をコンセプトにした動画配信も行う新しいタイプのピアニストとして活動している。メジャー流通CD「TANZ」がオリコン週間ランキングをはじめ、Amazon、楽天等のクラシック部門にて第1位を総なめ。そしてポップス、アニソン等も含むオリコン総合部門においてクラシックCDとしては異例の第11位にランクインする快挙。ピアニストとして前代未聞の鮮烈なデビューを飾った。
He was the winner of the Second Prize in the Piano Section of the Georges Enescu International Competition (Bucharest, Romania) in 2016, who was the first Japanese pianist to win this prize. In addition to performing in Japan and abroad, he has established a Youtube channel named "TAKU-ON TV Takuon(TAKU-音TVたくおん)". The total number of channel views has exceeded 53 million in just two years, and the number of channel subscribers has exceeded 200,000 and continues to grow (As of October 2022). After studying piano at the Department of Instrumental Music, Faculty of Music, Tokyo University of the Arts, he entered the Department of Piano at the University of Music and Performing Arts Vienna, where he graduated with a Master's degree in piano with unanimous top honors. Currently he studied in the post-graduate course. While focusing on orthodox good old classical music, he is also active as a new type of pianist, making streaming videos based on the concept of "making classical music more accessible". His major CD "TANZ" was ranked No.1 in the Oricon Weekly Ranking and the classical music rank of Amazon, Rakuten, etc. Besides, "TANZ" was ranked No. 11 in Oricon's general rank including pops and anime songs, which is an unprecedented achievement as a classical CD. This was an unprecedented and impressive debut as a pianist.
BACK